The Indian cricket team has not had many players from the southern state of Tamil Nadu. Although there has been many political and caste related issues, I want to look at the positive side of this ideology and speak of 6 cricket players that have not only made the national cricket team, but have also brought out their name in IPL (Indian Premier League). Read more to learn about these players and the amazing career that they had while they were in IPL.
As a side note, I want to share that I will be only covering their achievements ONLY from IPL for this blog post. Although these players have also played astonishingly well in the national team and their Tamil Nadu state team, the list of cricketers might just get longer if I tried to cover other forms of cricket.
1. Dinesh Karthik
Dinesh Karthik has been one of the 22 cricketers who played ALL the IPL seasons from 2008 to 2019. He began his IPL career in Delhi Daredevils where he was a middle-order batsman and a wicket-keeper. He was named one of the best wicket-keepers in 2009 and his highest strike rate was 147.77 in 2018. Although he had some great matches with Delhi Daredevils, he failed to perform well in playoffs.
Soon, after his career at Delhi Daredevils, he kept switching around to various teams. In 2011, he was sold to Kings XI Punjab for $900,000 and he was sold again for $2.35 million to Mumbai Indians on 2012. He went back to Delhi Daredevils on 2014 and jumped to Royal Challengers Bangalore on 2015 and Gujarat Lions on 2016.
Although he faced many struggles during the years of 2011 to 2016, he finally found his place at Kolkata Knight Riders on 2018 where he replaced Gautam Gambhir as captain. As a captain, not only was he capable of having one of his best batting careers, he was also able to led the team to playoffs during the 2018 and 2019 season.
2. Ravichandran Ashwin
Ravichandran Ashwin was chosen by Chennai Super Kings on 2008 where he was able to get his first IPL matches on 2009. Next year, he was able to play most of the matches in the season and became one of the most important spinners for the CSK team. Ashwin's performance kept up the bowling side of CSK until 2016 when CSK was banned from IPL. During this 2 year ban, he played for Rising Pune Supergiants and then became captain of Kings XI Punjab in 2018.
3. Lakshmipathy Balaji
One of the IPL achievements by Lakshmipathy Balaji that will never be beaten was the first ever Hat-Trick of IPL history. Balaji was able to pull it off in the very first IPL season when Chennai Super Kings played against Kings XI Punjab. His bowling economy for the CSK was very consistent over the years where MS Dhoni, the CSK captain, regarded Balaji as one of the reasons for winning the IPL tournament on 2010.
Although he had a great season with the CSK, he was then bought by the Kolkata Knight Riders where he played for them from 2011-2013. Finally, he played his last year of IPL on 2014 with the Kings XI Punjab. Then, he became the bowling coach for the Kolkata Knight Riders and then became the bowling coach for Chennai Super Kings on 2018.
4. Subramaniam Badrinath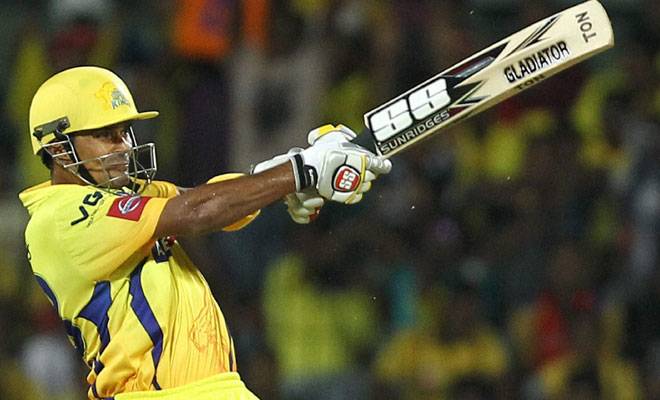 Badrinath mainly played for Chennai Super Kings during the early years of IPL. He began his career on 2008 and was a very consistent batsman until 2013. He was one of the reasons behind CSK having a strong batting line-up along with other shining players at the time like Matthew Hayden, Murali Vijay, Suresh Raina, Albie Morkel and MS Dhoni.
However, Badrinath went unsold during the 2014 auction where he didn't play in the IPL. Soon, many other players like Virat Kohli began to take his spot in other forms of cricket where he faded away. Although he was picked up by Royal Challengers Bangalore during the 2015 IPL season, he never got the chance to even play a single match. Finally, he retired from all forms of cricket on 2018.
5. Murali Vijay
Murali Vijay performed well for the Chennai Super Kings as the home stadium, Chidambaram Stadium, was one of the stadiums that he played since childhood. Although he only received a few matches on 2009, he had a very successful season on 2010 where he was able to make a few 50's and a 100. This made one of the best batsmans for CSK during that season where the team was also able to win the tournament.
When CSK won the trophy for the 2nd time in a row on 2011, he was also one of the standout players where he received the man of the match award in the 2011 final. However, he lost track on 2012 where other players like Michael Hussey and Dwayne Smith overtook his position in the team and he was soon sold out to Delhi Daredevils on 2014.
On 2016, Murali Vijay jumped to Kings XI Punjab and became the captain for a few years. Although he had the chance to come back to CSK once again for the 2018 and 2019 season, he only had the chance to play 1 or 2 matches in the whole season.
6. Vijay Shankar
For many Chennai Super Kings fans out there, many of them wouldn't know that Vijay Shankar was actually a part of CSK during the years of 2013 and 2014. Although he was in the squad, he never received a chance to play for the team during those two years. When CSK dropped him during 2015, none of the teams decided to pick him. Although Sunrisers Hyderabad picked this Tamil Nadu player on 2016, he didn't get a chance to shine until 2017.
His face began to show amongst the crowd and the media when Delhi Daredevils chose him on 2018. This was the first year when he received the chance to play most of the IPL matches in the season. Next year, he went back to Sunrisers Hyderabad where he finally got the chance to play all the matches in the season. He became a prominent all-rounder with a strike rate of 133.89 where his performance gave him the opportunity in the 2019 World Cup.
I hope you really enjoyed your way through my content and please don't forget to subscribe to the blog down below and leave a comment. Please make sure to join our Facebook Group where you have the opportunity to connect with us and also a chance to regularly keep up with our updates. Thanks a lot and I will meet you'll soon!!!
Peace Out!!!
---
Please Subscribe to Top Tamil Talk
Receive FREE newsletters delivered directly to your inbox!
Processing…
Success! You're on the list.
Whoops! There was an error and we couldn't process your subscription. Please reload the page and try again.
---